Do you exercise on a regular basis and eat nutritious, balanced meals but struggle to tone your midsection or buttocks? If so, you could be a candidate for EMSCULPT. This nonsurgical body sculpting technology helps patients strengthen and tone their glutes or abdominals in-office using HIFEM (high intensity focused electromagnetic) energy, which offers results comparable to hours spent doing crunches or squats. At Bay Area Plastic Surgery, we enjoy helping patients achieve their aesthetic goals in a manner that suits their lifestyle. For many, this means nonsurgical procedures that are designed to provide results without downtime or long recoveries. This is why we are so excited to offer EMSCULPT. Within a 30-minute session, EMSCULPT contracts the muscles surrounding the treatment area about 20,000 times to create a more chiseled appearance. Call our office in San Francisco, CA to learn more about EMSCULPT and how it can improve your self-esteem and help you reach your fitness goals. Schedule a consultation with plastic surgeon Dr. Leonard Gray today.
Reviews
"I had a procedure done over 13 years ago. I still feel and look great! He is sensitive professional and knows what he's doing. Will go back and refer him to as many people as I know."
- J.F. /
Google /
May 05, 2018
"Dr. Grey, is a kind, honest and very helpful with all your questions about plastic surgery. I got implants 17 years ago and they still look great. I have never had any problems with them. I am older now and planning to have them removed by him because I trust him. You can trust him he is the best!"
- D.H. /
Google /
Mar 21, 2020
"I have been a patient of Dr. Gray's for over 20 years. He is an amazing surgeon (breast augmentation in 1996) and an artist when it comes to surgical procedures, injections and other body work! I highly recommend him, he listens to your needs and does just what you want. His staff are amazing too, they are hard working, kind, and always have your best interest at heart."
- B.J. /
Google /
Feb 28, 2020
"I had the most amazing experience with Dr.Gray! I had my surgery 4 years ago and when I first met him, he was super informative and I could tell he had an artistic eye. I scheduled my surgery days after my consult and the whole day was comfortable, I wasnt nervous at all because I knew i was in good hands. Healing was a breeze, I stopped my prescription pain medicine the day after surgery and I had no bruising at all. These days, I follow many surgeons online and ive seen many surgery clips and there is a difference in healing based on how gentle and experienced the surgeon is, and Dr. Gray's expertise shows in the healing process. I wanted a natural look, and he delivered. No one is able to tell Ive had work done :) His staff was extremely personable and accomodating towards me and they went above and beyond expectations. 5 Stars in every category. My experience was perfect every step of the way."
- N.D. /
Google /
Feb 28, 2020
"Words do not describe how happy I am that I found Dr. Gray and his staff. Everyone made me feel at home.  Dr. Gray saved my sanity by performing a perfect capsulectomy and replacing my implants.   I had been in pain every second of every day since the day I had my first implants done.  I could not handle the pain and discomfort anymore after 3 years. The original surgeon was absolutely no help and I would never recommend him or his office. I live in Discovery Bay and some days it would take 2 hours to get to Dr. Greys office and 2 hours home.  And it was COMPLETELY WORTH IT!  It's you body so make sure you're not being lazy, like me with my the first surgery, and go see Dr. Grey.  My only wish is that I went to him first! He was very up front, does not over promise, listens to what you have to say and how you feel. He is extremely educated and believes in the products he chooses to use. I appreciate him and the staff for everything and honesty can't wait to see them again!"
- S.P. /
Yelp /
Feb 17, 2020
Previous
Next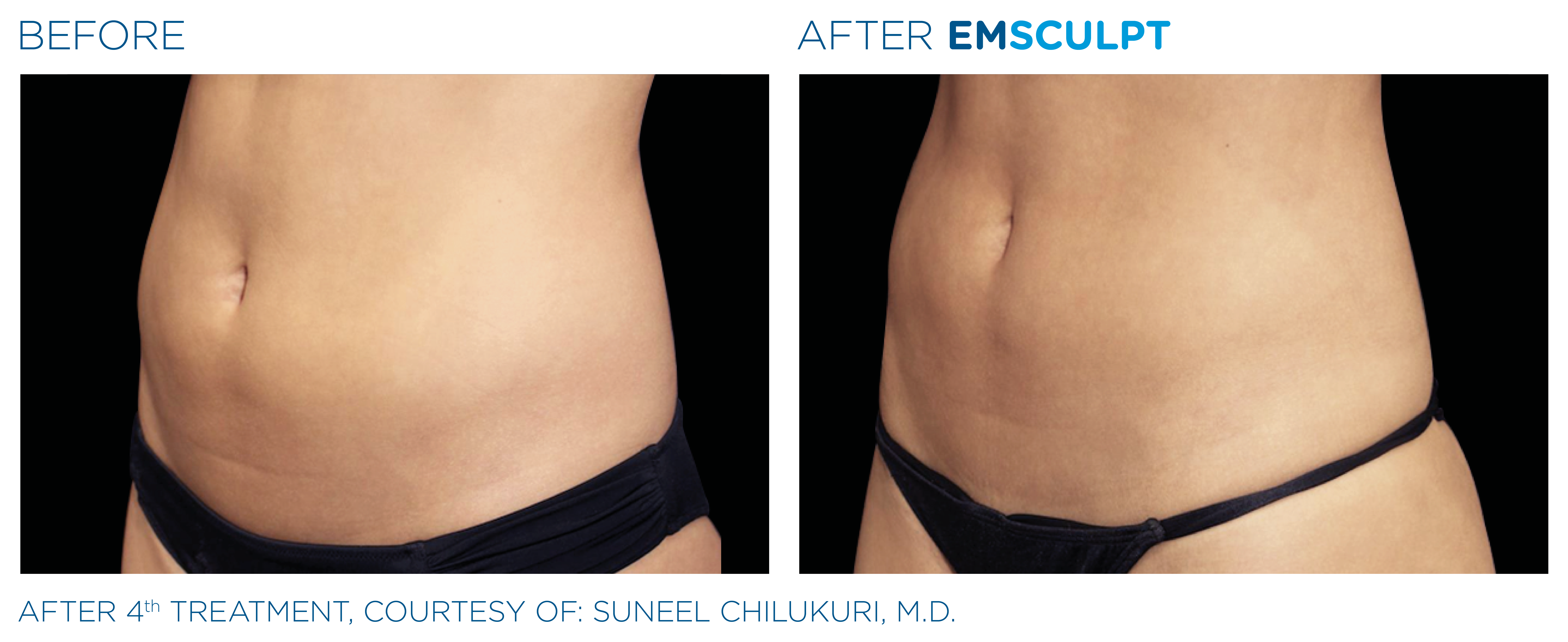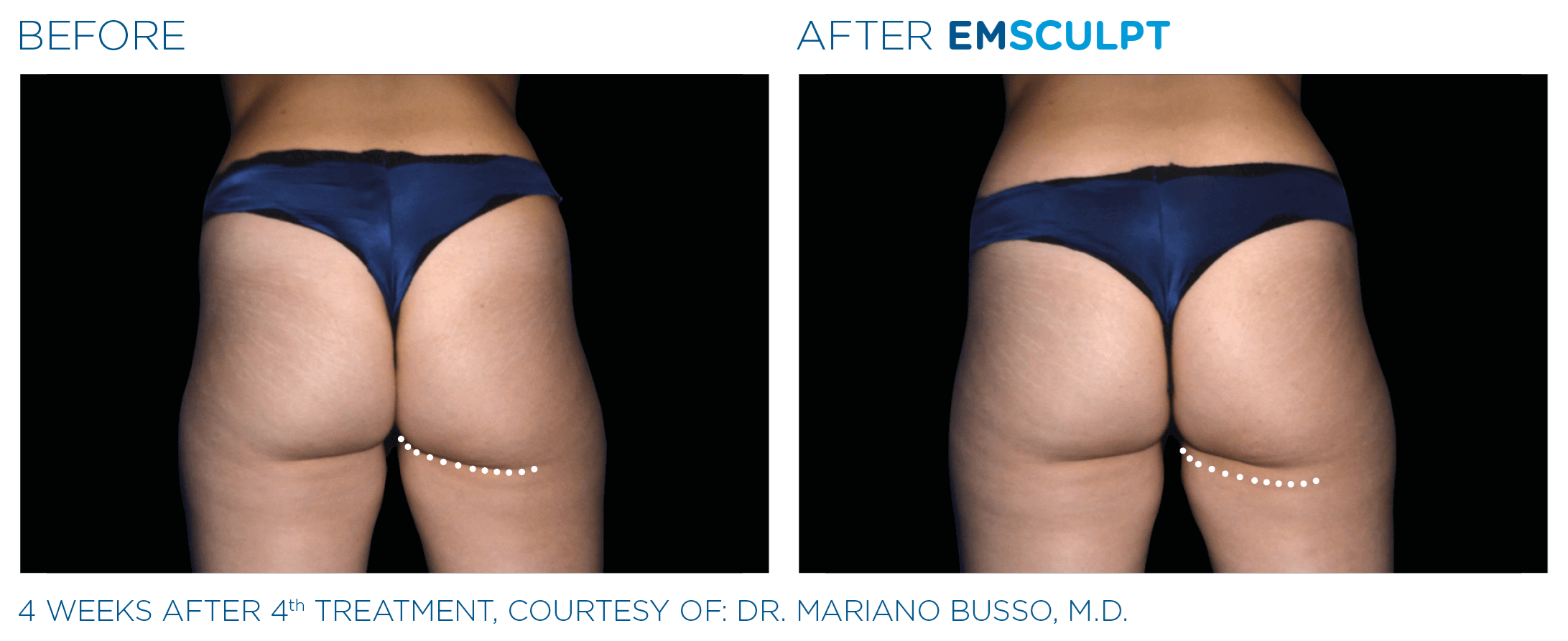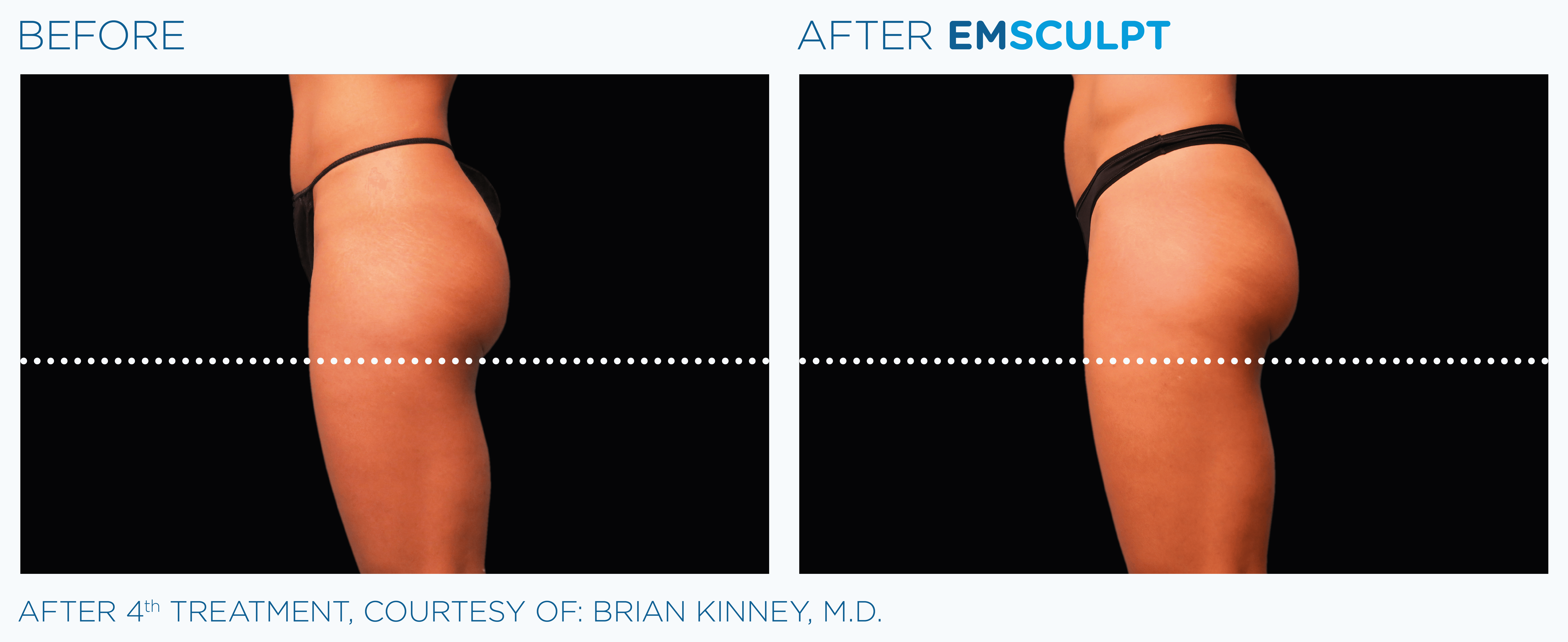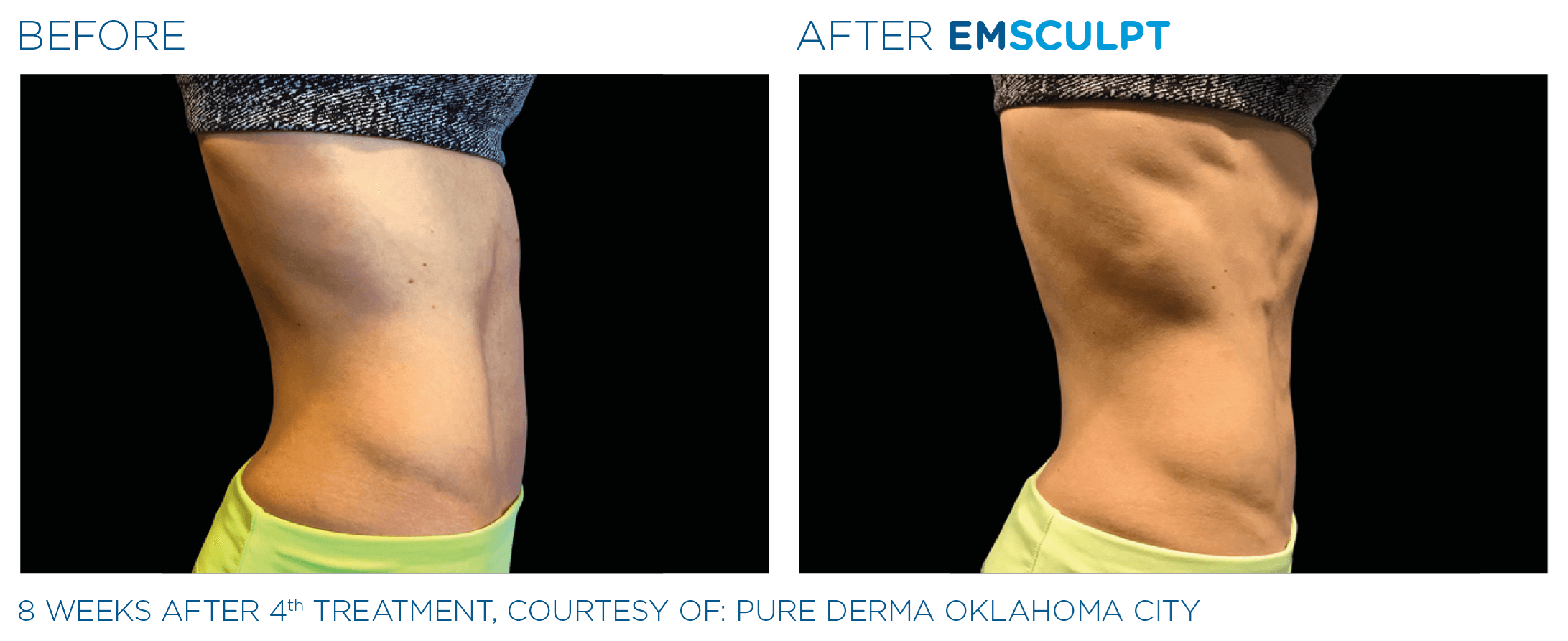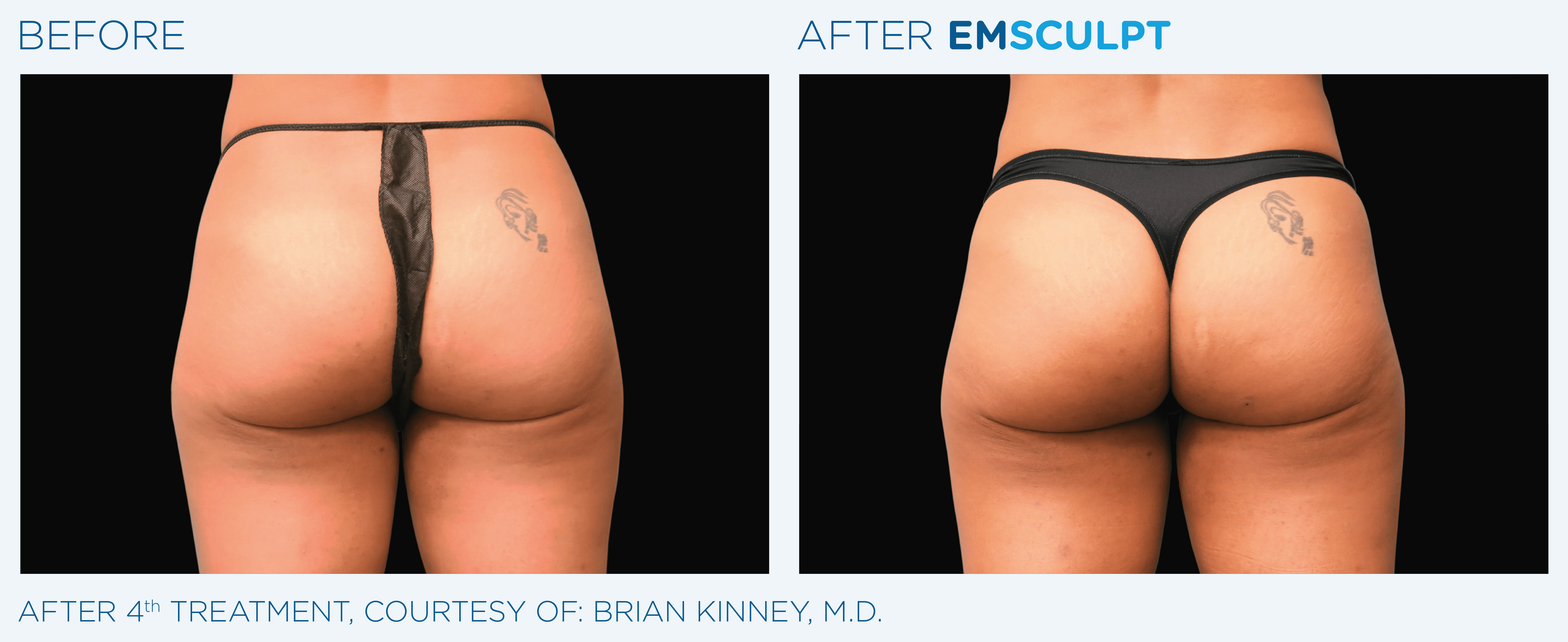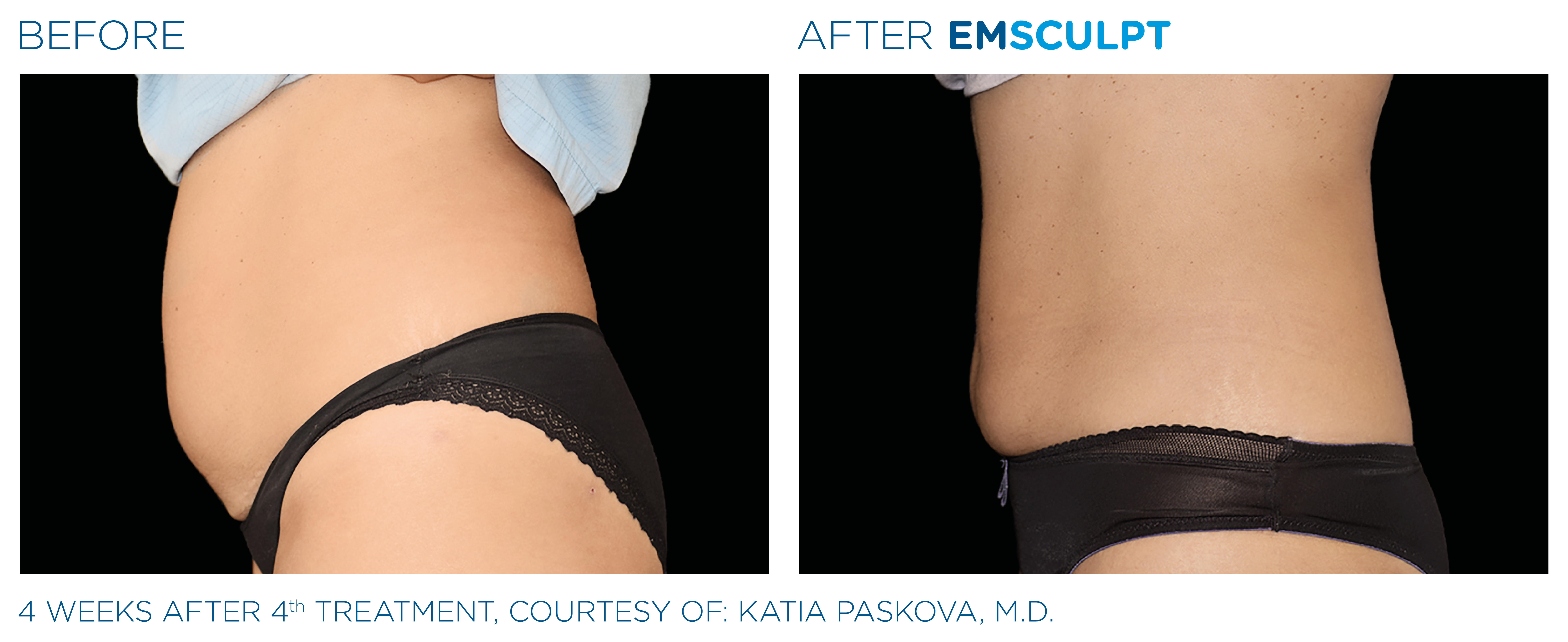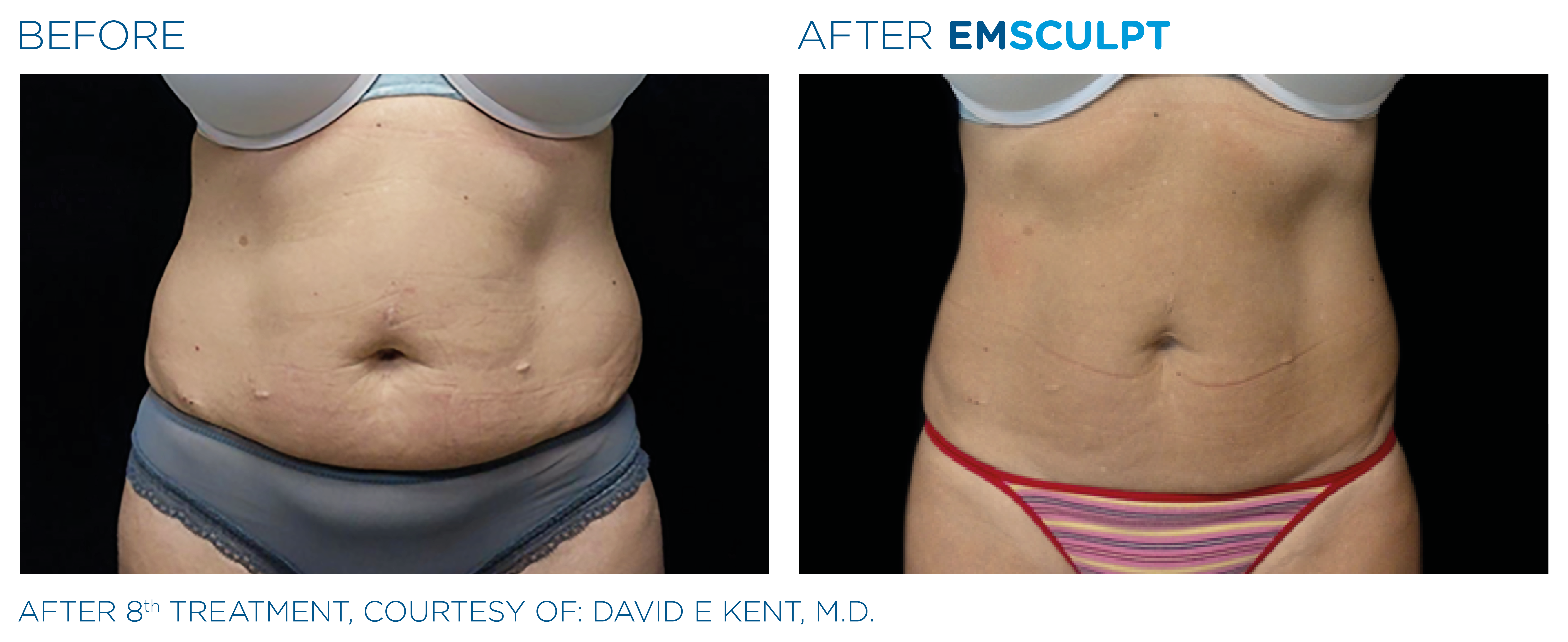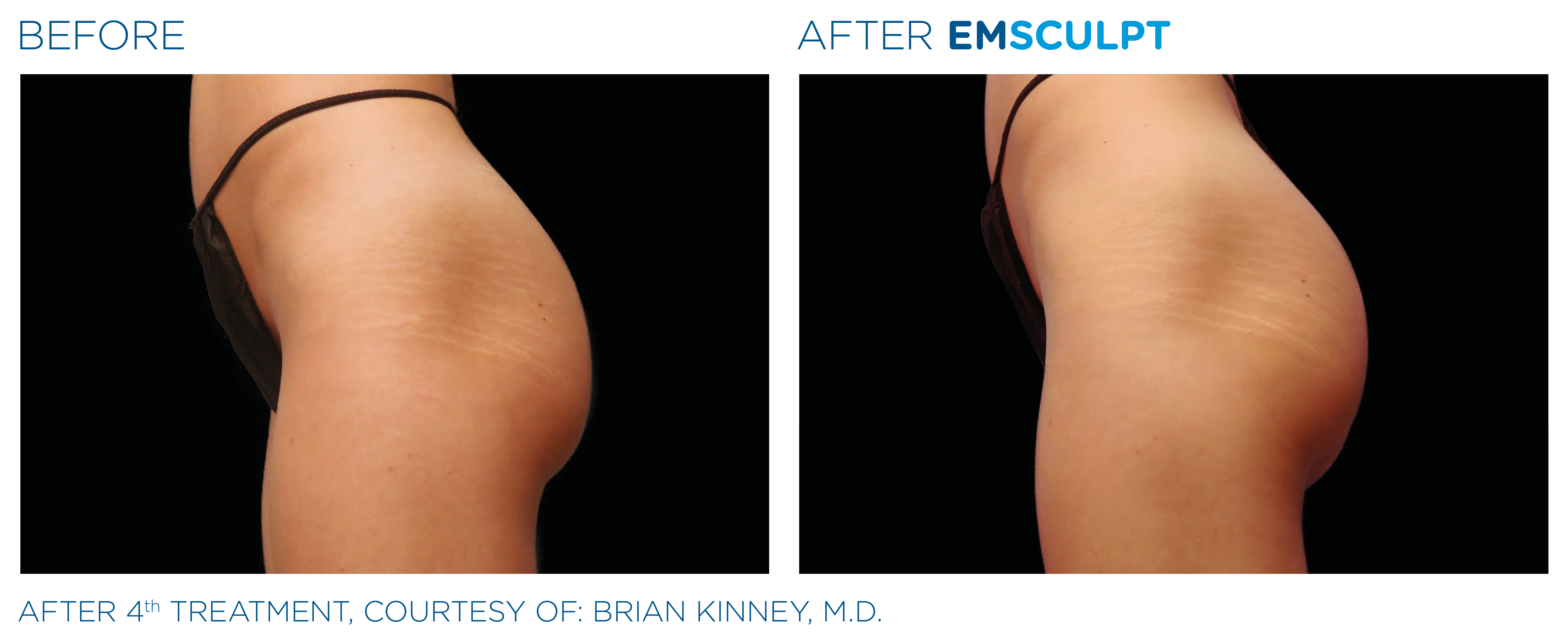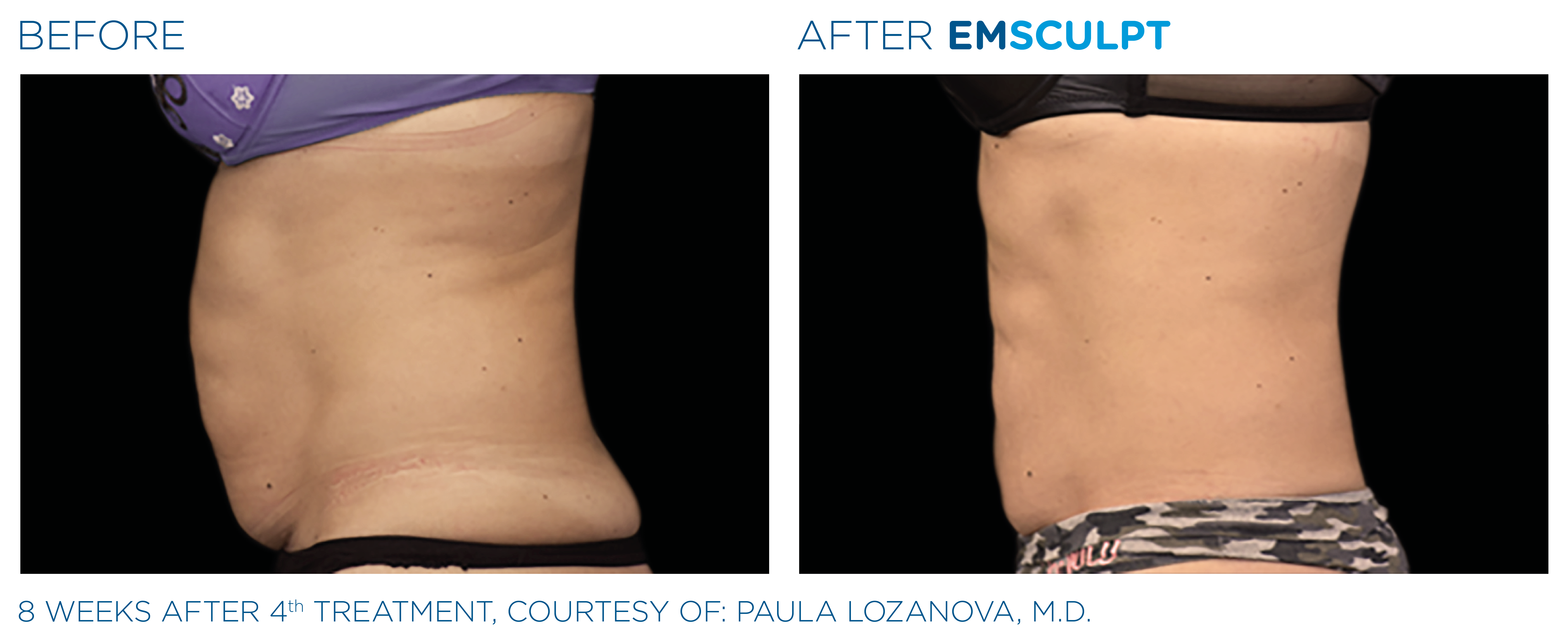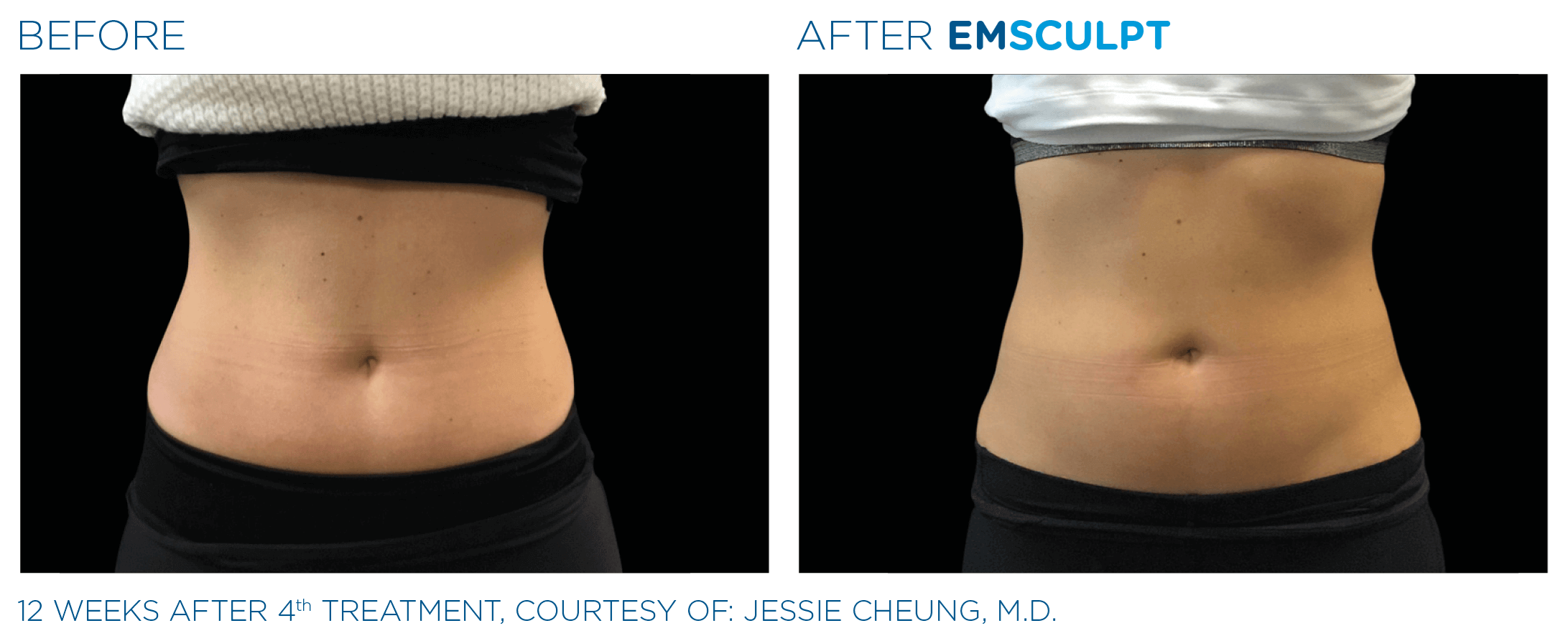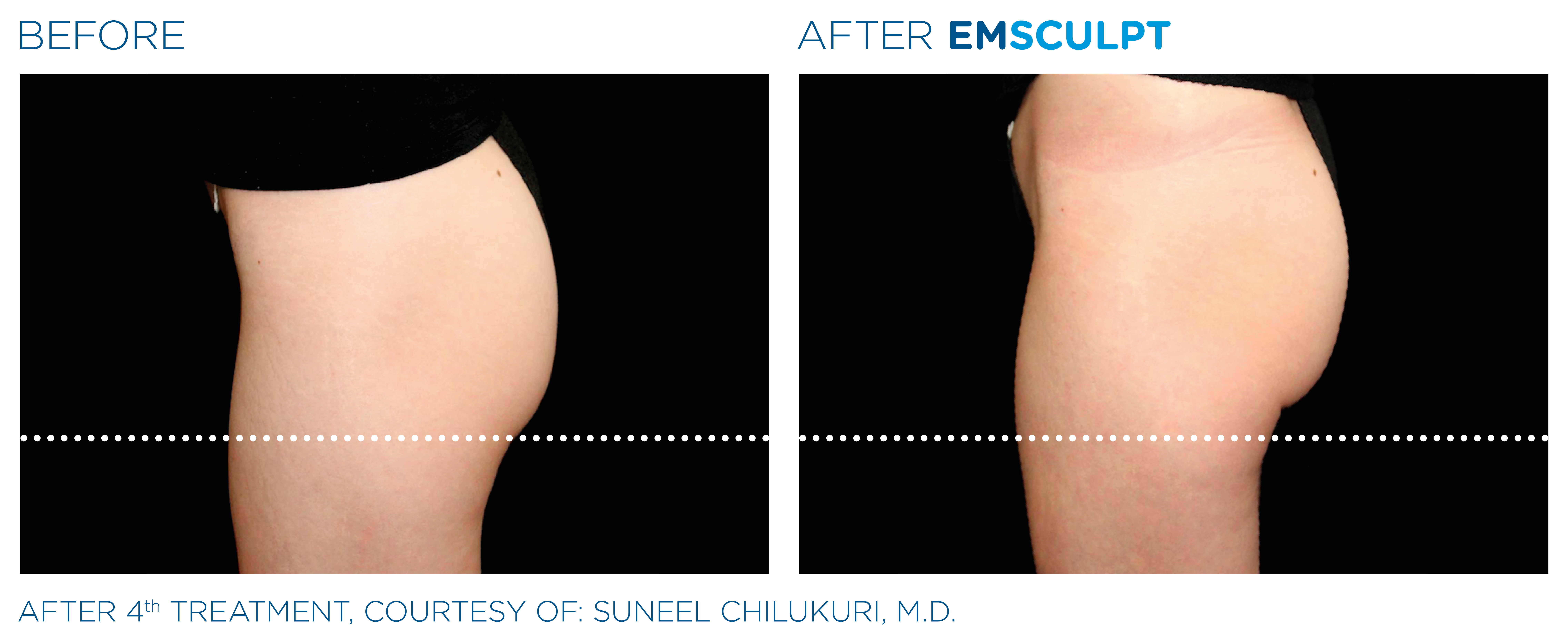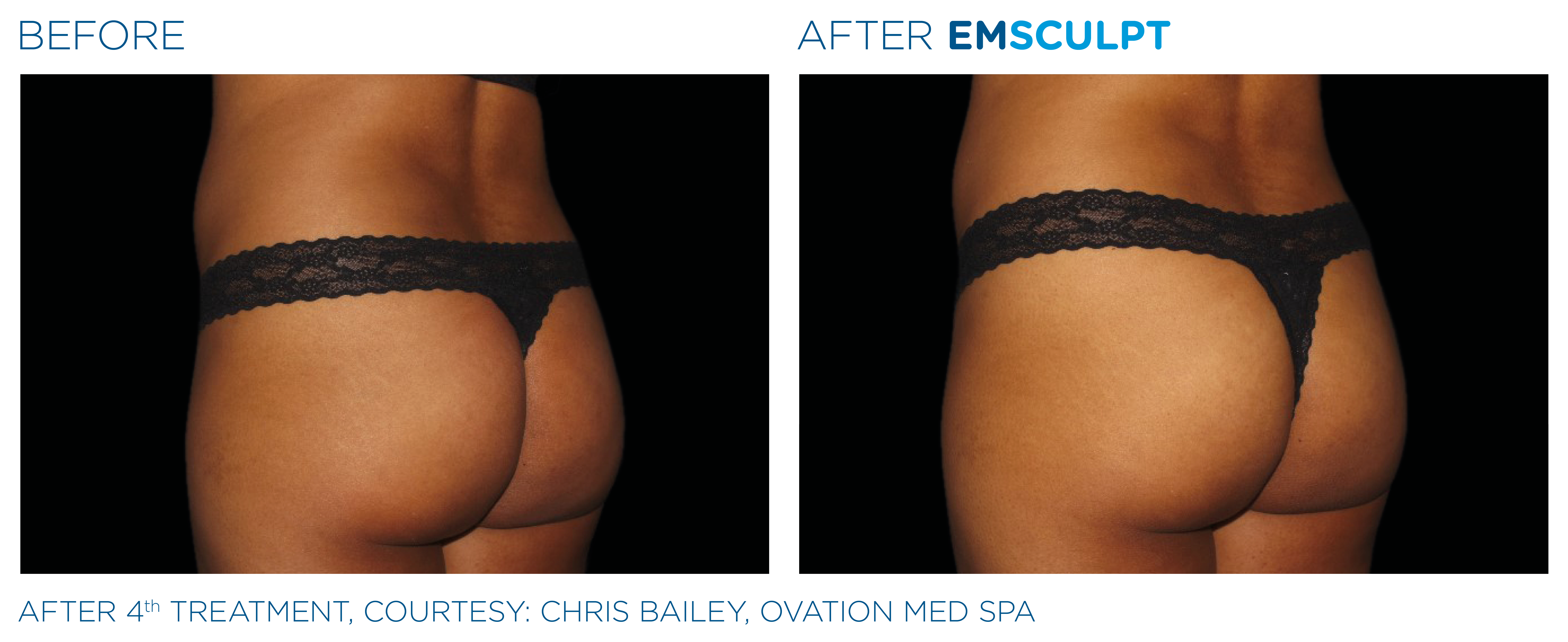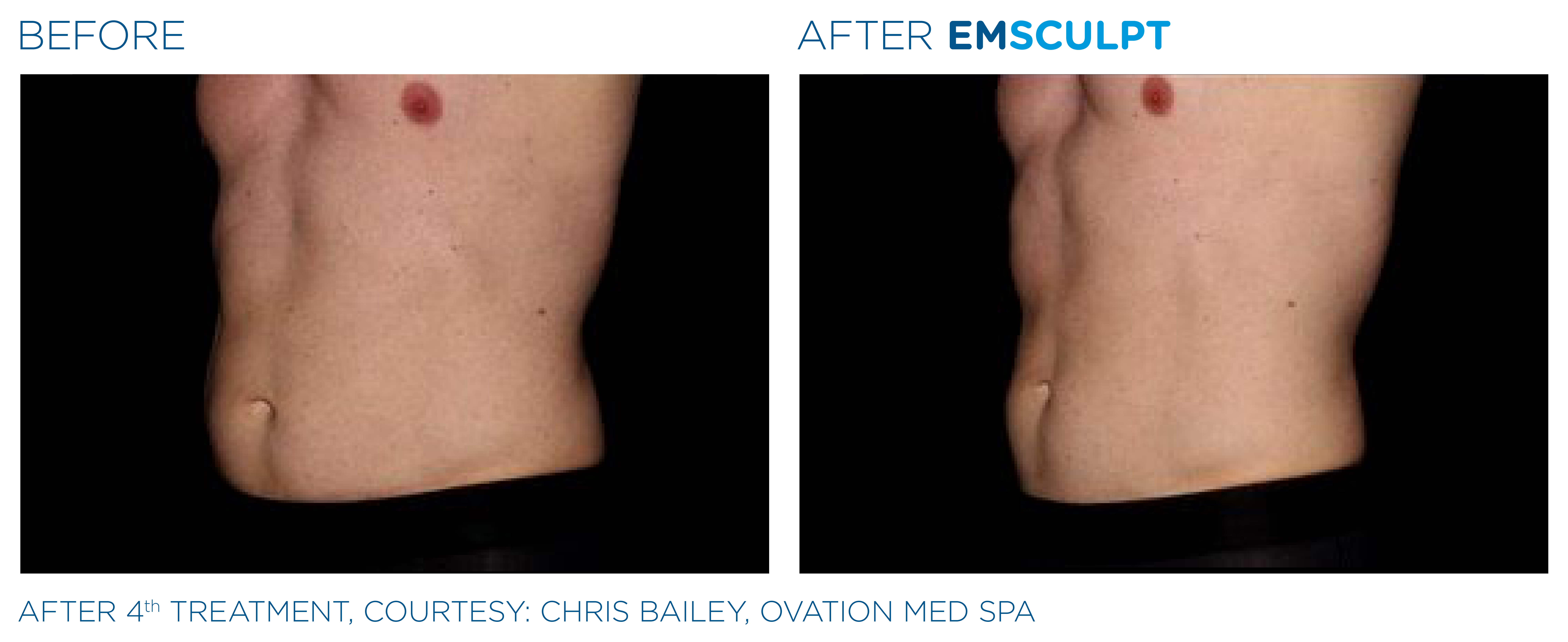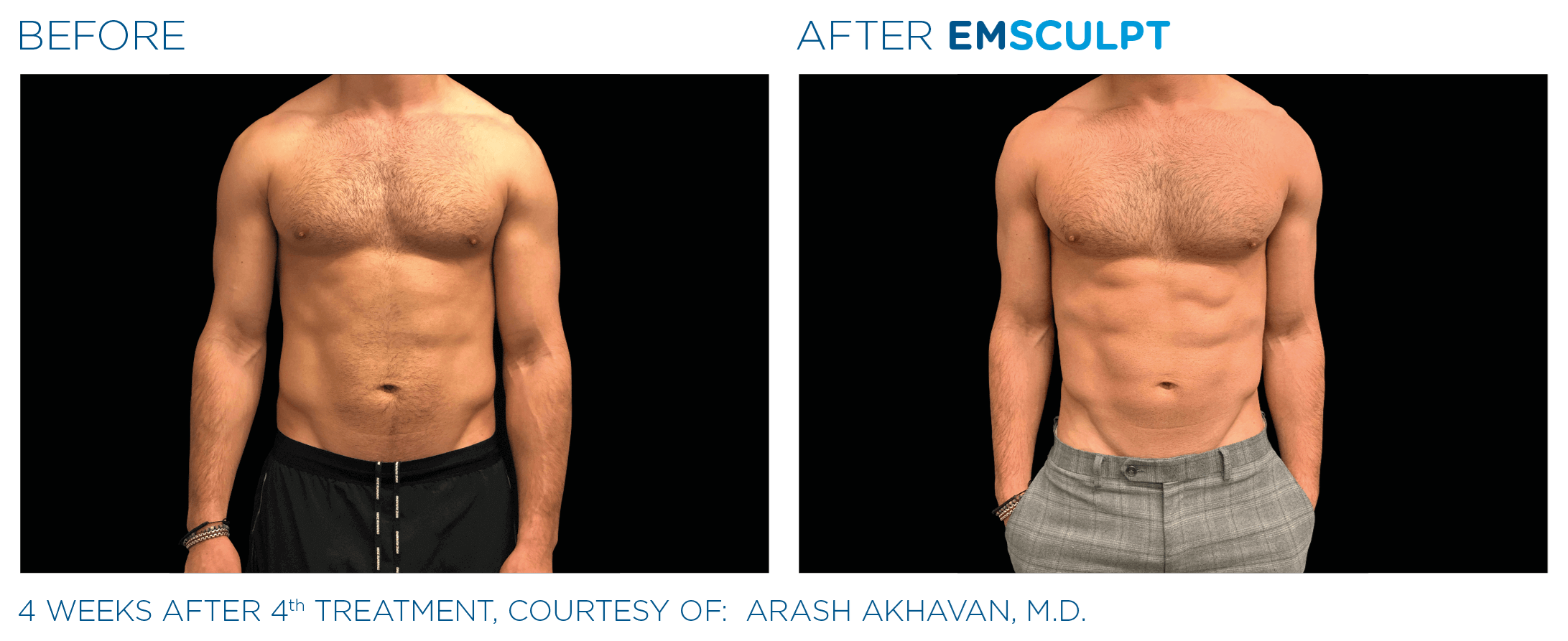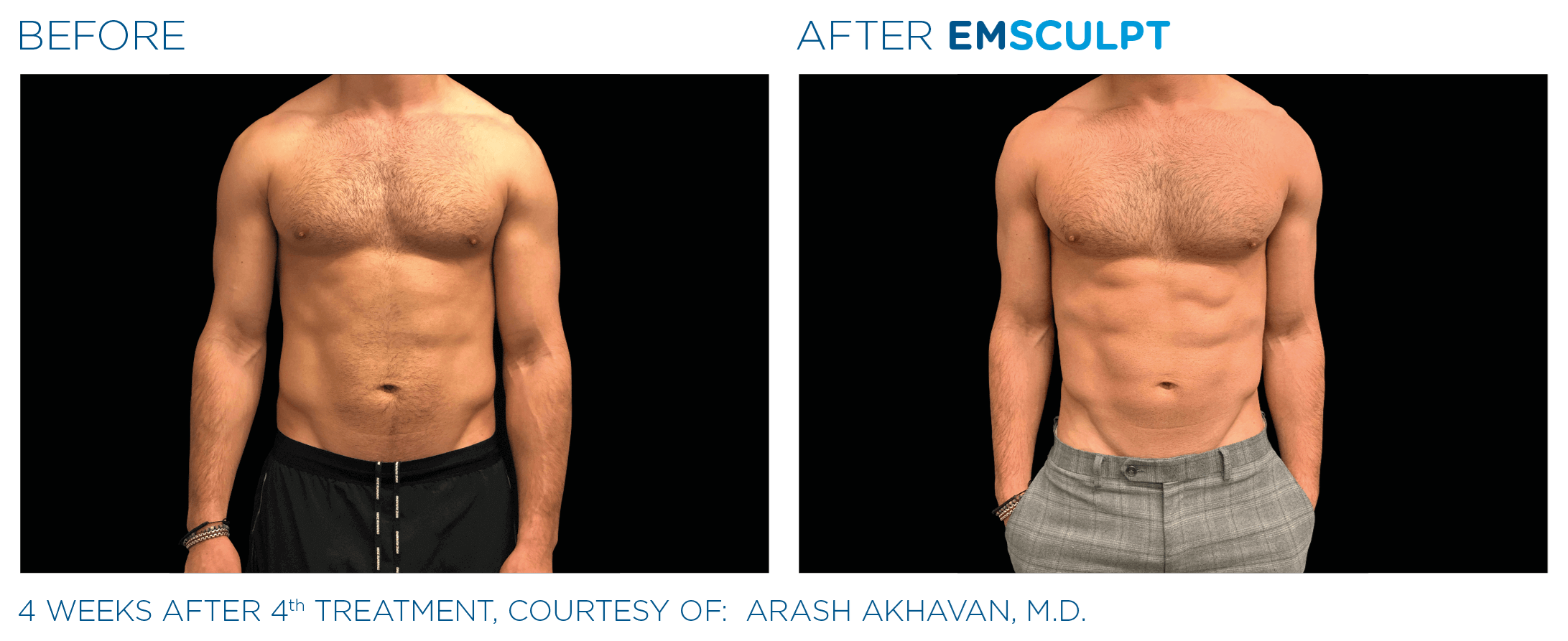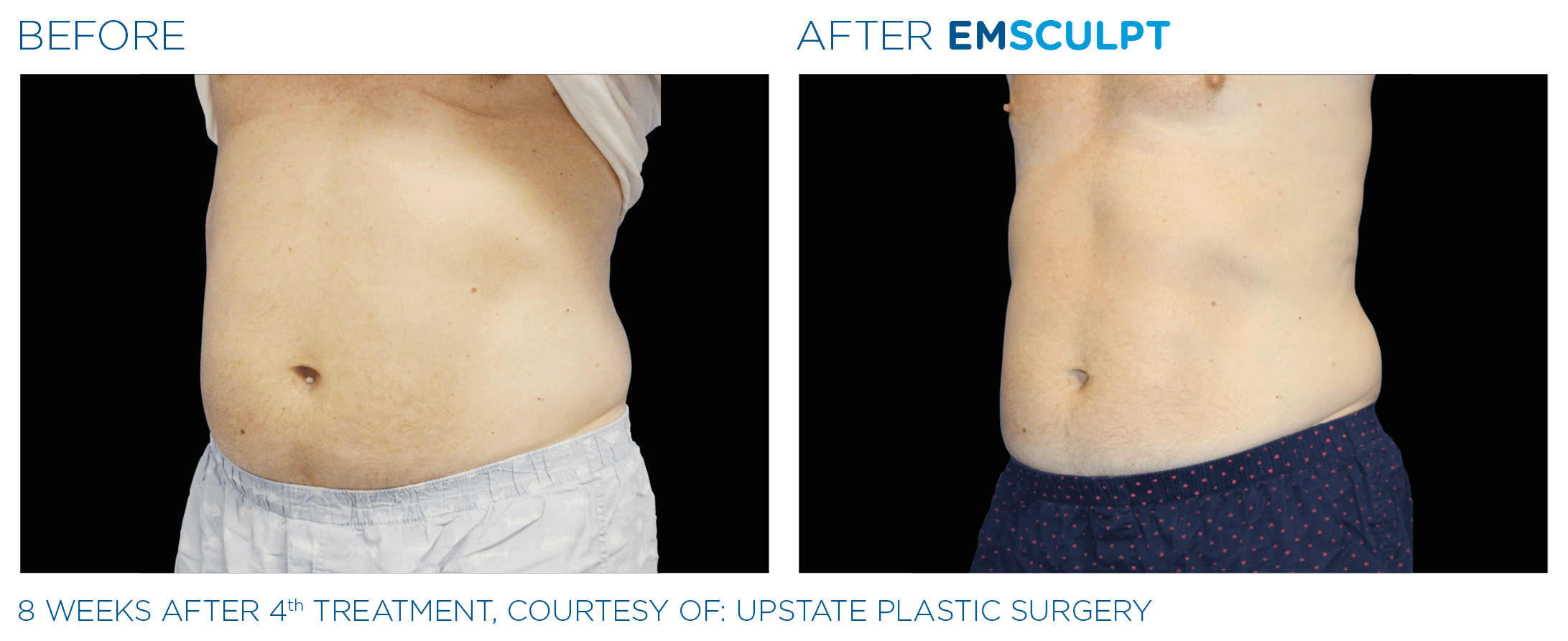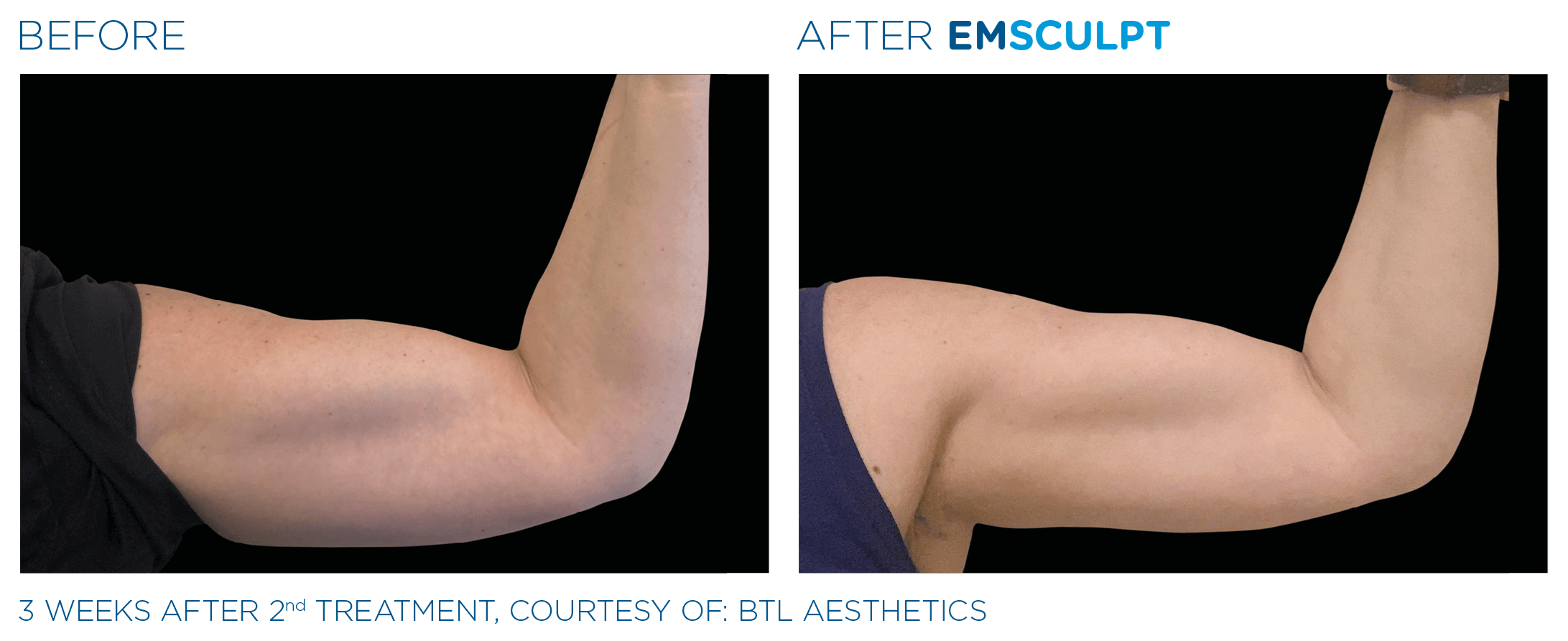 EMSCULPT procedures typically last for about 30 minutes. For those who choose to treat both their abdominal and buttocks areas at the same time, sessions could last longer. During the appointment, you will rest comfortably while the EMSCULPT handpiece is lowered onto your body. As the high-frequency energy begins to work, you will feel the light contracting of your muscles, which will intensify as the treatment continues. Many compare the sensation to that of a vigorous workout. Our team will supervise your session and modify the treatment to ensure you stay relaxed and comfortable. Following your appointment, it will feel like you just completed a tough workout.
Patients may resume their daily activities immediately after the session. Because the treatment is noninvasive, you will not experience any significant side effects, although muscle soreness is common. Over the following week, you may notice continued soreness in the treatment area. Rest assured that this is normal. Patients should avoid targeting the treatment area when working out for a few days after their session. Dr. Gray will develop a treatment plan that includes the number of treatments recommended to achieve your aesthetic goals. However, 2 EMSculpt sessions per week for 2 weeks is the average number of treatments needed for optimum results." "The buttocks requires a total of 6 treatments.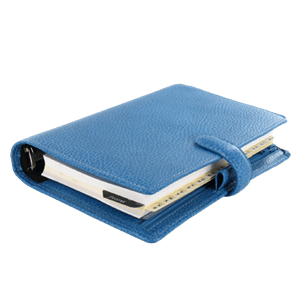 Frequently Asked Questions
How much will my EMSCULPT treatment cost?
The cost of your EMSCULPT treatment will include the total number of sessions Dr. Gray recommends to help you achieve your aesthetic goals. This could include multiple sessions. We encourage patients to focus on the end goal of attaining a chiseled and toned physique versus the cost of each individual session. To help you afford your treatment, we accept a number of payment methods and may be able to help you apply for medical financing.
Who is a good candidate for EMSCULPT?
The best candidates for EMSCULPT maintain a healthy diet and exercise routine and are at a stable weight. EMSCULPT is not a weight loss solution and will not provide favorable results for those with high body fat percentages. To learn whether EMSCULPT is a good treatment for you, schedule a consultation at Bay Area Plastic Surgery.
How many sessions will I need?
In most cases, patients need up to six sessions to achieve their goal look. Many patients notice mild results after each session. To learn how many sessions are recommended for you, schedule a meeting with Dr. Gray who will assess your body type and aesthetic goals and help create a treatment plan for you.
How soon will I see results?
While many patients notice results after each session, the most dramatic results will not be noticeable for a few weeks while you attend repeat sessions. Additionally, as is the case with any muscle mass, you will need to continue working out and maintain a stable weight to protect and prolong your results.